There were a number of concerns about what might happen at the 59th presidential inauguration, but what Joe Biden would wear was never one of them.
Joe Biden's inauguration
With reassuring predictability, he was sworn in as the 46th US president wearing a navy blue, single-breasted suit by that most wholesomely all-American of designers, Ralph Lauren.
In contrast to his predecessor's erratic approach to proportions, it fitted him perfectly. His sky blue tie was of a normal length. The message: normal service is restored to the White House.
The optics of this inauguration were serene, respectful and quietly joyous. Biden and his vice-president, Kamala Harris, the rock stars of the hour, presented as humble public servants, not as celebrities.
They dressed to reassure that their administration would serve all of America, instead of revolving around the attention-seeking theatrics of individual politicians. "Today we celebrate the triumph not of a candidate but of the cause of democracy," the president said.
A capital city in semi-lockdown, in a country where Covid-19 has claimed 400,000 lives, is no place for a catwalk show. American designers who were asked to submit inauguration day sketches and suggestions for Harris and the first lady, Jill Biden, were told that neither woman wished to convey a "fashion" message.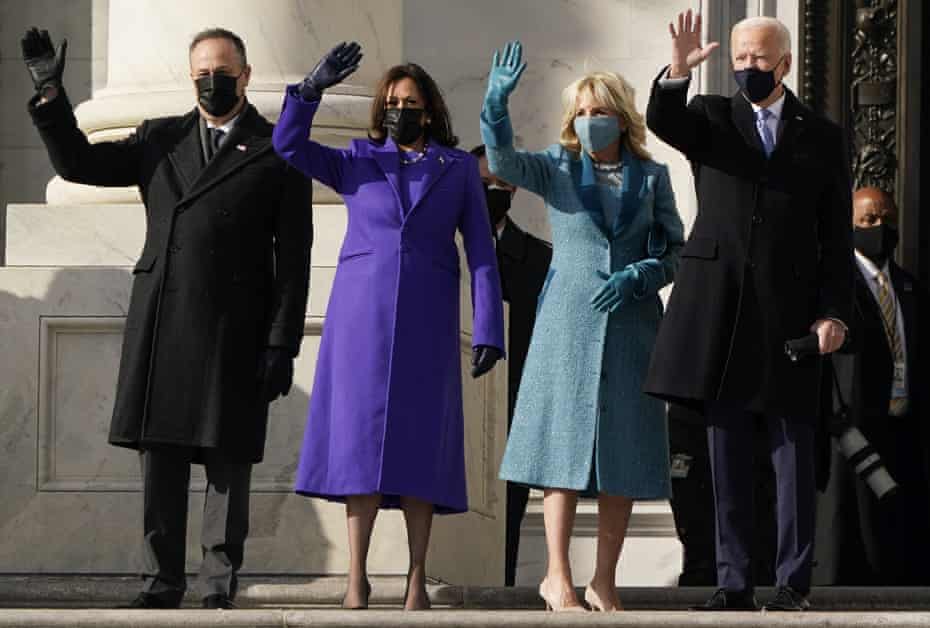 Instead, both chose to promote independent, purpose-driven American brands. The vice-president chose a purple coat and dress ensemble by two black American fashion designers, Christopher John Rogers and Sergio Hudson, for her big moment.
Rogers, who is from Louisiana and based in Brooklyn, is just 27. He was named the American Emerging Designer of the Year at last year's CFDA fashion awards.
Biden and Harris
He declared his team "honoured and humbled to have played a small part in this historic moment". Hudson, who is based in Los Angeles, also designed Michelle Obama's claret suit for the occasion.
While both the president and the first-ever "second gentleman", Doug Emhoff, wore Ralph Lauren, the women in the spotlight chose instead to promote small labels.